I say this over and over again to anyone who will listen: editing (and book coaching) is 75 percent relationship and 25 percent mechanics. Maybe even 80/20 sometimes.  If the relationship isn't there, then the process can be, well, painful.  Each editing relationship is different, of course. There is no "one size fits all" way to edit or coach a writer. I learn as much from the writers I work with as the writers learn from me, and I wanted to tell the stories of some of the incredible people I've had the honour and pleasure of working with.  Off the Page is the result.
---
I first met Tom Ryan in a crowded classroom at the University of Victoria in 2010. Writer Robin Stevenson and I were co-teaching a course on writing and publishing for young adults, and Tom signed up. He had started a YA novel, and wanted as much information and feedback as he could get about writing and publishing (see below: Be smart). He was clearly very serious about his writing, but he also had a sense of humour about himself. For me, this was (and is) an irresistible combination. 
Fast forward a few months.  Tom contacted me at Orca Book Publishers, where I was an in-house editor, and submitted his YA manuscript. (see below: Be brave) It wasn't perfect (no manuscript is) but it had real potential and Tom had real talent. Like Tom, the book was intelligent, funny, authentic, kind and bursting with heart. 
Reader, I signed it. 
Here's what Tom said to me about our work together on what became Way to Go.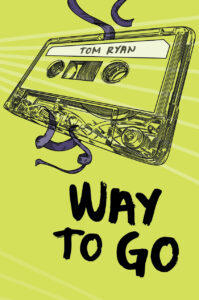 "There are a few things I remember about working with you on Way to Go. First and foremost, the fact that you signed it at all is worth mentioning. It was my first novel, and the draft I submitted wasn't particularly tight, but I think you saw some potential in it, and in me. Your offer letter came with an important caveat: you were willing to sign the book if I was willing to work really, really hard to whip it into shape. I didn't need to be asked twice, and we proceeded to dive in.
 As I remember it, we worked through six rounds of edits, beginning with a broad structural edit in which we tackled the book's framework and addressed significant issues with the plot, then in subsequent rounds we worked our way through characterization, theme, etc… until we made it to a final polish. At the time, I assumed this is how editing always worked, but in retrospect (and with several more books behind me) I realize that the manuscript was so rough that it required an unusually intense and deliberate approach, which you were willing to bring to the table. 
I learned so much working with you, and I have taken many of those lessons forward with me as I've continued to hone my craft and build a career. I tell the students and aspiring writers I speak with that a great editor is worth their weight in gold, and you are certainly a great editor. I doubt I would have made it this far if you hadn't been willing to take on my manuscript and treat it with such respect and careful consideration."
Tom's  determination to improve the book was impressive. He was open to anything I threw at him, and he did the work. And then some. (see below: Be tenacious) We listened to each other, we laughed a lot and we got it done. We became friends. I met his husband and his dog (both lovely).  Way to Go came out in 2012.  This is what Publisher's Weekly had to say about it:  "Those who, like Danny, feel like 'an island of gayness in an ocean of straightness,' should identify with his search for a path of his own."
Tom and I  worked on three other books together–Tag Along, Totally Unrelated and Big Time–before he got an agent and moved on from Orca. Since then he has gone from strength to strength. (see below: Be ambitious) 
His YA mystery Keep This to Yourself  was the winner of the 2020 ITW Thriller Award for Best YA Thriller, the 2020 Arthur Ellis Award for Best YA Crime Book, and the 2021 Ann Connor Brimer Award, and is currently being adapted for television (with Tom as the screenwriter). Learn more about Tom at tomryanauthor.com.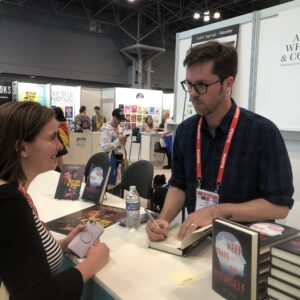 (Tom looking very serious signing books at a book convention.)
Tom's latest book I Hope You're Listening, won the 2021 Lambda "Lammy" Award for Best LGBTQ Mystery. Also in 2021, Tom and co-author Robin Stevenson published a YA novel called When You Get the Chance, about two cousins on a road trip to Toronto Pride.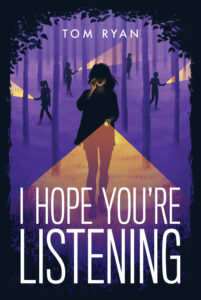 So what's the take-away from all this? (Other than that you should read all Tom's books. )
Be smart.  Read (a lot), take writing courses, join a writers' group, read some more. Educate yourself about publishing. Read Jane Friedman's articles about publishing (janefriedman.com).
Be brave. Writing is hard (and can be isolating). Publishing is hard (and often discouraging). It took courage for Tom to send me his novel, but it was so worth it, for both of us!
Be tenacious. Tenacity is an absolute necessity for writers. Rejection sucks, but it doesn't mean that your book is bad. Don't give up. Stephen King's novel, Carrie, was rejected 30 times before being picked up by Doubleday. 
Be ambitious: Talent will only take you so far. Ambition can open a lot of doors. Confidence draws people in. 
If you'd like to chat with me about how I might help you with your writing, click here for a free 20-minute consultation. Let's make the alchemy happen!