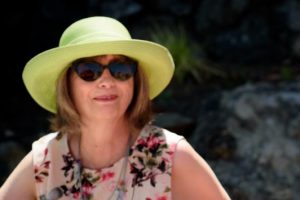 For thirteen years, I was an in-house editor for Orca Book Publishers, a wonderful, mid-size Canadian children's book publisher. During my time at Orca I developed, acquired and edited award-winning fiction and non-fiction for kids aged seven to seventeen. I have listed some highlights on my Portfolio page.
Before becoming an in-house editor at Orca, I was a bookseller, columnist and reviewer for many years. I have also taught courses on writing, editing and publishing. My reviews and columns are, for the most part, lost in the mists of time, although you can find a few online.
I love all kinds of books—sad ones, funny ones, dark ones, light ones, short ones, long ones. I love learning from the non-fiction books I work on, and I love burrowing into the world of a great novel (although I'm not particularly drawn to fantasy or sci-fi).
I am also the author of a baker's dozen of books for young readers (picture book to YA). If you're interested in my writing, you can check out my author website.
I know how publishing works and how important it is for a writer and an editor to develop a relationship that works for both of them. My experience as an author has helped shape who I am as an editor too. I understand how difficult it can be to be edited, but I also know how valuable it is. I love the process of taking a book from first draft to finished book, and I believe the editor's job is to act as a book's champion every step of the way.
I will bring expertise, enthusiasm, attention and commitment to your work, regardless of genre. In other words, I will be your cheerleader (but without the pompoms).
I acknowledge and respect the Lekwungen-speaking Peoples on whose traditional territories I live, work and play.