Bevann Fox
 In early 2019,  the managing editor at University of Regina Press asked me if I would be interested in editing a book by Bevann Fox, a Residential School survivor, writer and artist. . The first question I asked was whether she was okay with having a non-Indigenous editor. I was put in touch with her so I could ask her the question directly. Her answer was "I'm fine with it, as long as you're good." Then she laughed!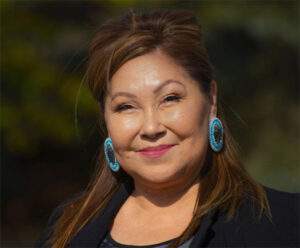 I came to understand that this was Bevann Fox in a nutshell: direct, funny, smart. She is also brave, resilient, kind, and committed to finding ways to tell her stories.  In the report I wrote for the publisher before we started the editing process, I described  Bevann's book, which became Genocidal Love, as "a raw cry of pain and rage and resilience." I also said it needed a LOT of work.
Bevann had self-published Genocidal Love (under the  title Abstract Love), and it had sold well within Saskatchewan's Indigenous communities. Our challenge now was to reach non-Indigenous Canadians. Bevann knew that the manuscript was raw (and messy), and that it would need re-structuring and re-writing if it was going to be a success in the Canadian marketplace.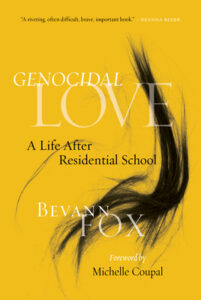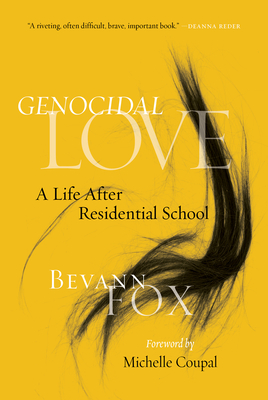 In our early conversations, I asked Bevann to tell me if and when the process of revisiting painful experiences became overwhelming. The last thing either of us wanted was for her to be triggered by revising the book. I wanted her to feel comfortable telling me that she had to take some time to process what she was writing. I also asked her to tell me if I overstepped, got things wrong, or in any way made her feel disrespected or unheard. My goal was to retain her voice and honour her stories as best I could.
Bevann only told me recently that she has a complex ADHD disability, and that all the timelines and deadlines we set really helped her deal with things like re-ordering chapters for clarity and effect, changing the narration to first person, and switching back and forth between past and present tense.
As Bevann says, "We had a flow going on.  It was a relationship, a partnership, a collaboration, a commitment, an exploration, and a challenge that would allow me to dig deeper into my thoughts and memories."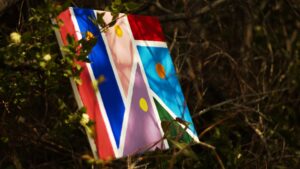 "Moons" by Bevann Fox
I learned so much from working with Bevann, who embodies resilience. I learned to listen first and ask questions later. To put the relationship first and let everything flow from that. To be honest, but to always be kind. To be still, and to wait (a tough one for me). To create a flexible structure that works for both parties. To respect and acknowledge different ways of being on the Earth. To laugh often. To work hard. Sure, I knew these things before, but helping Bevann tell her story really confirmed that these are qualities I want to bring to all my relationships, not just the editorial ones.
Bevann has recently sent me a new manuscript, and I am about to start the process of reading, thinking, assessing, and then sharing my thoughts with her. This is how she describes the new book: "It is fiction based on true events, a unique perspective using humour to heal from intergenerational trauma of Residential Schools, the Sixties Scoop, foster care and the sterilization of Indigenous women. Four successful Indigenous women –Cree, Saulteaux, Lakota and Metis—are spectacular remnants from systems of genocide. The editing will support the voice of each character and entwine their connection and the flow of their friendships as they embrace humour and seek answers to their existence." I can't wait to dive in! And wouldn't Spectacular Remnants be a great title!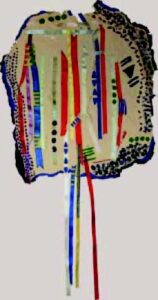 "Colonialisation/Assimilation" by Bevann Fox
BEVANN FOX is a member of Pasqua First Nation, originally from Piapot First Nation. In 2014 she was honoured with the YWCA Women of Distinction Award—Arts, Culture and Heritage, and in 2022 she was the recipient of the Queen Elizabeth II's Platinum Jubilee Medal. She is the founder, producer, and co-host of Access TV's The Four. Her 2020 book, Genocidal Love, has been nominated for sixteen awards and won an Indigenous Voices Award and a Saskatchewan Book Award in 2021.